As I sit at home during this latest lockdown and continue to reflect on this past year I am grateful for the opportunities afforded my blog by authors, illustrators, and publishers in the form of blog tours and amazing titles to review and recommend – all of which have provided much welcome distraction at a time when we are all in need of it. The welcome escapism found reading books is perhaps more relevant then ever for us all, and whether it be beside an open fire or under a blanket on your sofa, it was definitely an incredible year for adventures, mysteries, spooks and festivities in 2020 – and with 2021 having begun, it will be fascinating to see what awaits readers. As I look to books to enjoy this January, I enjoy being able to first provide the concluding part of my 2020 roundup.
Blog Tours (July-December

)
The start of the summer season saw my part in the tour for the Umbrella Mouse to the Rescue by Anna Fargher, in which the incredibly talented local author talked of how the sequel to her debut came to be published, and for Anna to write about the magic of reading and the welcome escapism it provides.
The start of the academic year saw Fire Boy by J.M.Joseph tour on the BookBound blog in which the author talks of writing at home and the joy it offers when a person does so for pleasure and not through chore or duty. Given that children had been looking for advice and inspiration online since the March 2020 lockdown it was certainly both of those and more to read as to how this utterly brilliant new book came to be published, and that it fought the uncertainty of a pandemic to reach the shelves is testament to the strength of the content as much as the writer.
The Accidental Wizard blog tour featured a write up from yours truly, and the magic and chaos this story has to offer as author Kimberly Pauley tells of a magicians apprentice becoming even more powerful then his teacher when a freaky accident takes place and affords him powers of his own. I also got to enjoy taking part in a book themed challenge at the end of my post which was both fun to answer, and made participation in this tour varied from others. The book combines the world of wizardry and magic with that of fun and humour which makes this a enjoyable read for all.
The Tigers in the Tower by Julia Golding is another incredible 2020 publication I have been fortunate to feature on my blog, and to have Julia write about the importance of historical fiction to today's generation of middle grade readers and how it bridges the gaps in our knowledge makes for an interesting piece. The book itself has a strong female lead character whose dedication to the two tigers she arrives in England with – and considers family – remains strong throughout all that she endures as a result of being orphaned during her journey. A powerful read with some fantastic references to historical figures and places, this is a must read from the year.
The Elsetime tour content came in the form of a feature by author Eve McDonnell written in the form of a recipe as such, detailing the 'ingredients' needed to write a story. Relating the ingredients and therefore choice for them to this utterly brilliant new book and its existence makes this an incredible feature, and one that I am incredibly delighted to have hosted. The post is accompanied by some stunning photos personally chosen by Eve, and ones that I find delightful to appreciate the detail within and the relevance to which they were chosen.
The Monsters of Rookhaven by Padraig Kenny also featured on my blog in 2020 and it focused on Padraig's very own tips for writers, and given that this author has both been nominated for prestigious children's awards but also won them too. The blog feature encourages readers to acknowledge and accept that not knowing what to write immediately is perfectly fine, and to embrace the time when you can leave your mind to focus and your imagination to prosper. This latest book turns the perception of good and bad on its head, and leaves readers reflecting on being so quick as to 'judge a book by its cover'.
In the Autumn my blog was host to a feature by Amy Wilson as the sequel to her incredible A Girl Called Owl was published. Owl and the Lost Boy is as unforgettable as the first installment in Owl's journey and everything fans could hope for as they enjoy adventuring in a world that Jack Frost visits, and in which an incredibly strong young girl calls home. The combining of the world we know with that of magic and mystery makes this a beautiful, heartfelt, and stunning read.
Midnight Magic by Michelle Harrison is a book aimed at 5-8 year old's, and I was one of the stops on this blog tour in October for which I interviewed Michelle about such things as the style in which the book is written, the story itself, and what readers can expect next in this brand new series. I always enjoy interviewing authors and it gives me great pride in being chosen for such an opportunity as I enjoy posing the questions I would like to know the answers to, and believe them to be worthy in both regards to all readers looking to enjoy this book, and those who have already done so too.
Another fantastic title that features magic and the world of witchcraft is that of Morgan Charmley Spells and Secrets by Katy Birchall, which toured on my blog in late October in the form of Katy writing about one of her favourite celebrity witches, Samantha Stephens. This character played a pivotal and iconic role in the tv series Bewitched, which is one I have watched in my childhood, and have the fondest memories of doing so, making this content personally relevant in that respect, and something I delighted in sharing on my blog as a consequence of the link I could make in that way to the content Katy provided me with.
From magic and witchcraft to celebrating circus', my next tour featured The Acrobats of Agra by Robin Scott-Elliott in which we got to read the authors reasons for a circus themed book, the second that Robin has written for children. Robin details the history of the circus and how much excitement a circus creates for those attending, as well as the spectacular scenes associated with a trip to the circus. The article talks of Robin's previous book The Tzar's Curious Runaways and the two books are perfect for children looking to escape into this setting, and the energy and curiosities awaiting.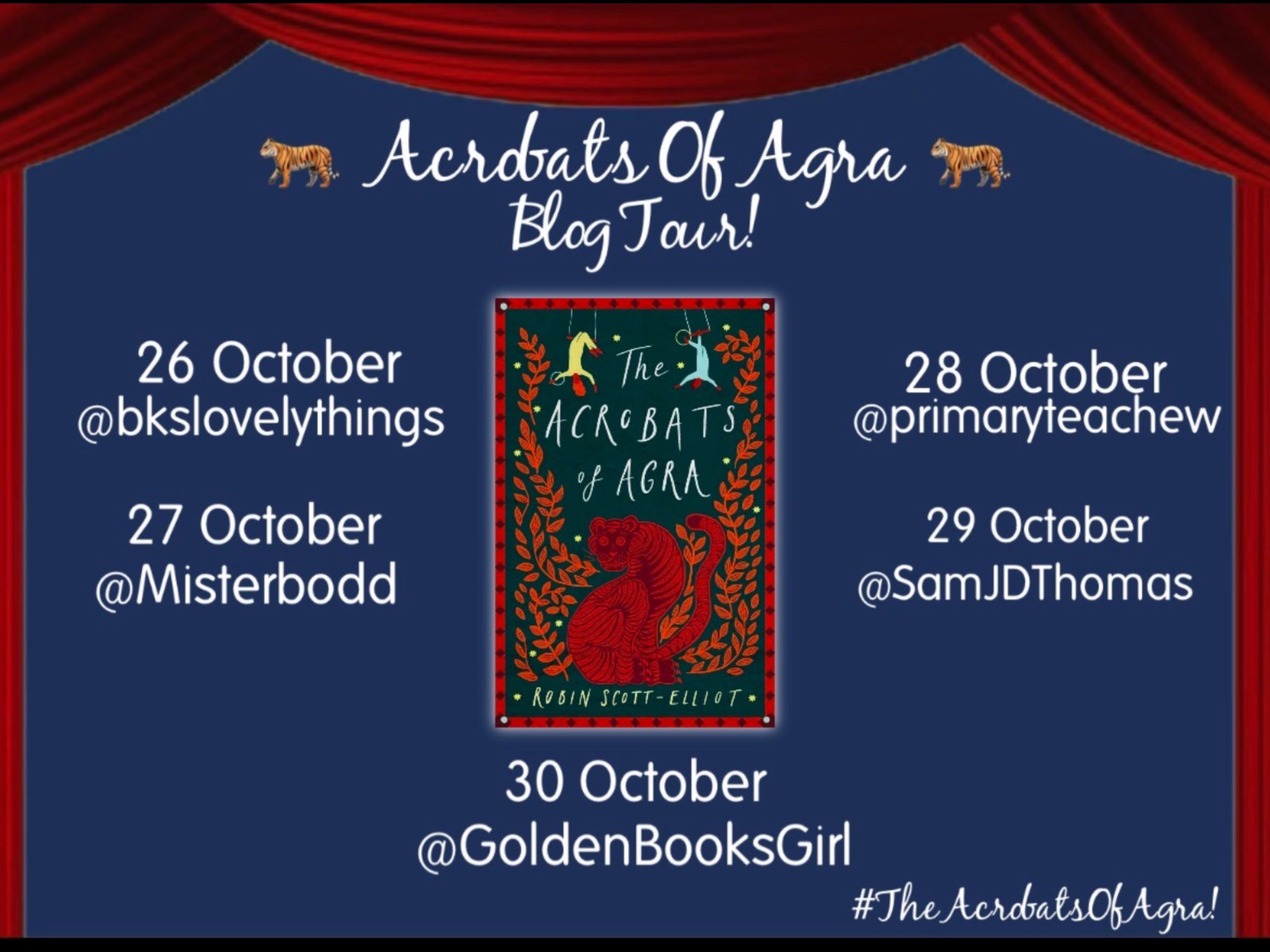 My final blog tour of 2020 was that of The Creature Keeper by Damaris Young, and what a way to conclude blog tours for my blog this title is. After reading Damaris' debut The Switching Hour in 2019 I was so excited to see what followed after, particularly given that her debut gave me a new found love of debut authors and the high standard of writing, content and depth they provide today's generation of middle grade fiction. This latest book from Damaris does equally not disappoint with a strong storyline, fierce female lead character, mystery and spooks, and so much more besides. I will always maintain a loyalty to authors that return the respect and love I show them and their craft, and Damaris has been fantastic – like all the authors named in these 2020 reflective blogs.
The year that was 2020 may have set physical limitations on our ability to meet up with one another and get acquainted but that said, I have had the most amazing year finding my way within the extensive world of children's blogging and strengthened my friendships with those that work within the children's publishing world, authors, illustrators, and of course bloggers too. Once you find your feet and set about showcasing the books that leave you excited to share them with the children at work and home you maintain a high standard of book knowledge, and get to enjoy being a part of one of the best communities out there.