As children move from Board Books to Picture Books is a huge milestone in the journey to becoming a fluent reader, and one that reads for pleasure, it gives me such joy to bring attention to titles that will definitely grab younger audiences' attention from the get go, make them laugh and smile, ensure they think about what they hear and see from each book, and that they go away having enjoyed themselves. All of those are hugely important as we look to help children make reading a key part of their daily routine.
Nibbles : The Monster Hunt – by Emma Yarlett
Published by Little Tiger
RRP – £7.99 (pb)
Released in paperback on 3rd September 2020
Also available in hardback
Additional titles available in the Nibbles series
With a fun feel throughout this latest instalment detailing the antics of Nibbles, there are brilliant features such as small and page sized book covers to open, and details inside to share too. As nibbles eats his way through fact books we learn some interesting information relating to space, and when Nibbles chews through art themed books he mixes paint colours and makes an interesting mess. It is Nibbles who saves the day as we follow him through the holes in the pages of the book that he has created. The combination of interaction and funny ensure younger audiences will be enthralled, and requesting this book (and it's series) over and over again!
It's Only One! – Tracey Corderoy and Tony Neal
Published by Little Tiger
RRP – £11.99 (hb)
Released on 3rd September 2020
A story that shows the consequences of not thinking about your actions, and that if we all did something – regardless of how small and insignificant it may seem at the time – it amounts to a much bigger thing if we all do it. Rhino drops a sweet wrapper, and realises he was in the wrong when everyone else does the same, leaving the area a mess. Mouse is responsible for making everyone see the error of their ways by doing something nice, and encouraging others to follow suit. A story that will definitely have younger audiences thinking about the effect their choices and actions have on others.
Along Came A Fox – Georgiana Deutsch and Cally Johnson-Isaacs
Published by Little Tiger
RRP – £11.99 (hb)
Released on 3rd September 2020 in hardback
Fox goes on a hunt for fireflies and meets friends that want to accompany him along the way, so they head down to the lake where Owl has advised Fox he is most likely to find fireflies. When Fox gets there he looks into the water and sees another Fox staring back at him, and the Fox seems really angry too. When Fox and Hedgehog go back to Owl to question what has happened down at the lakeside they return and together the trio come to understand the impact attitudes and emotions have, and Fox comes to realise what is happening down by the lake. An adorable and heartwarming adventure that younger audiences will adore.
While You're Sleeping – Mick Jackson and John Broadley
Published by Pavilion
RRP – £12.99 (hb)
Released 3rd September 2020
This is a story about all the people that keep your routine and the country running, by working hard overnight while children are sleeping. Whether it be a nursing mother or a lorry driver getting supplies to the supermarkets, there are so many things that happen during the dark hours of the day that people overlook and are unaware of. It is brilliant to get children thinking about all those busy people whilst snuggling down for bed, as it will doubtless contribute towards dreams that younger children have, and give them a better understanding and appreciation for things too.
She Rex – Michelle Robinson and Deborah Allwright
Published by Bloomsbury
RRP – £6.99 (pb) and £11.99 (hb)
Released on 6th August 2020 in paperback and hardback
Maisy longs to join in with his brother Ed, playing dinosaurs and having a good time. Ed however is convinced that dinosaurs are a boys toy only, and that Maisy is not able to join in with him and his toys. Maisy tries to convince Ed that there are girl dinosaurs but Ed doesn't believe her, until Maisy tells Ed that She Rex is real – and she is right there for good measure too! A brilliant book for fans of dinosaurs, and particularly girls that would adore the main character being female. The book has Charlie and Lola vibes to it which I found adorable because the sibling thread in the story makes it so much more special.
Ig Pig and Og Frog! – Sophie Burrows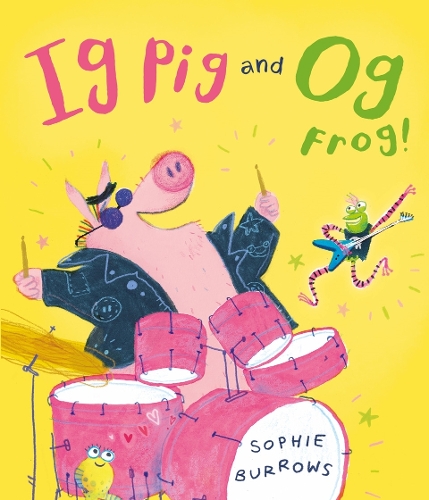 Published by David Fickling
RRP – £11.99 (hb)
Released on 2nd April 2020
When Ig and Og are together they have the most amazing time, messing around in the mud and playing music, but then one day Og means Bog, another frog just like him, and everything changes. Ig feels left out now that Og has Bog, and all the activities that the now trio set about doing are not the same for Ig as they had been previously, and bit by bit Ig gets angrier and angrier. When Ig vents his anger and spoils band practice, everything is ruined between them all, and they part ways. Only when he is alone does Ig realise what he is missing by not accepting Bog and being there for Og, so he sets about making amends and finds them doing the same. A fantastic story that celebrates friendships, and highlights jealousy as an important emotion to feel and learn to control.
As ever, these books and so many more of those that feature here on my blog have been gifted to teachers in the school I work, to share with their classes and rehome in their classroom library collections. There is so much reward in being given feedback from my colleagues that share with me how much the children love the stories, illustrations, humour and experience of sharing a great story with their friends. These are all perfect for school libraries, classrooms, and of course enjoying at home. Be sure to check out my previous October Picture Books blog which can be found here.